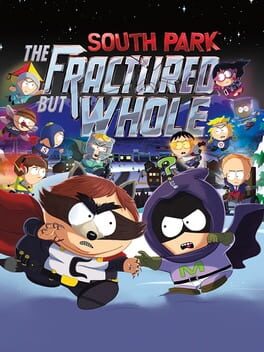 South Park: The Fractured But Whole
Publisher

Ubisoft Entertainment

Developer

Ubisoft San Francisco

Release date

17 Oct 2017
Players will once again assume the role of the New Kid, and join South Park favorites Stan, Kyle, Kenny and Cartman in a new hilarious and outrageous adventure. This time, players will delve into the crime-ridden underbelly of South Park with Coon and Friends. This dedicated group of crime fighters was formed by Eric Cartman whose superhero alter-ego, The Coon, is half man, half raccoon. As the New Kid, players will join Mysterion, Toolshed, Human Kite, Mosquito, Mint Berry Crunch and a host of others to battle the forces of evil while Coon strives to make his team the most beloved superheroes in history.
see all / fold
| AGM score | 83% |
| --- | --- |
| IGN | 8.5 |
| GameSpot | 8 |
expand / fold
About South Park: The Fractured But Whole
South Park: The Fractured But Whole is released by Ubisoft Entertainment in 17 Oct 2017. The game is designed by Ubisoft San Francisco. South Park: The Fractured But Whole is a typical representative of the Role-playing (RPG) genre. Playing South Park: The Fractured But Whole is a pleasure. It does not matter whether it is the first or a millionth hour in Role-playing (RPG), there will always be room for something new and interesting. Thrilling levels and gameplay South Park: The Fractured But Whole will not leave anyone indifferent. The complexity of gameplay increases with each new level and does not let any player get bored.
In addition to it in 17 Oct 2017 released games such as:
In addition to South Park: The Fractured But Whole, the representatives of Role-playing (RPG) games also belong:
A complete list of games like South Park: The Fractured But Whole can be found at AllGame here.
South Park: The Fractured But Whole is versatile and does not stand still, but it is never too late to start playing. The game, like many Role-playing (RPG) games has a full immersion in gaming. AllGame staff continues to play it.
South Park: The Fractured But Whole is perfect for playing alone or with friends.
At AllGame you can find reviews on South Park: The Fractured But Whole, gameplay videos, screenshots of the game and other Role-playing (RPG) representatives.
The story
This section tells the history of the world of South Park: The Fractured But Whole
After the events of South Park: The Stick of Truth, the children of South Park become role-playing superheroes. However, a falling-out over Cartman's planned film franchise splinters the boys split into two groups, with some calling for a civil war to make their own franchise. The player again controls The New Kid, though they can now change his gender to female if they wish.
South Park: The Fractured But Whole - Review
Author: Dan Stapleton
Date: 2020-07-30 17:07:06
Translated from English by IGN France.
Arguably South Park: The Fractured But Whole Story is hands down the funniest role-playing game since South Park: The Stick of Truth , which launched three years ago. This new episode focuses more on a parody of superhero movie franchises than RPG mechanics, certainly making it less innovative, but offering much deeper turn-based combat so that it can stand out from its own. predecessor.
Like The Stick of Truth, The Fractured But Whole looks and feels like any other episode in the series, except that it lasts about twenty hours, when you're doing something other than fighting. The raw animation is brilliantly emulated, the dubbing is completely authentic (at least in original version), and the writing quality is beyond our expectations. Exploring the map of South Park that expands as you go, and its many references to the original show is a true gift for fans, even if it looks a lot like what we saw in The Staff of the Truth. Obviously, there is also a certain irony when Memberberries appear in a game that draws heavily on the story developed in South Park over the past 20 years, especially this reference that dates from a joke that aired a year ago.
The story starts a bit slow, in the company of a new personalized child by you, with whom you abruptly go from the end of the Stick of Truth and its heroic-fantasy battles to a superhero theme. in order to find a cat whose reward is $ 100. It's a cynical take on child role-playing games, where Cartman wants to use the money to create something similar to the Marvel Cinematic Universe, with a Batman-like called Coon as the main character. He hopes to become rich enough through film and merchandising. But after a few hours, he gets carried away into the signature South Park absurdity, and you fight a whole lot of stuff, from minions of Professor Chaos to crab men. Admittedly, The Fractured But Whole surfers relatively little on new jokes, preferring to use existing material to deliver this playful video adaptation, but it does it well - even when it comes to making Kenny's deaths funny.
In the early hours, it's hard to know what's real, and what's coming out of the children's collective imaginations - and The Fractured But Whole plays with that confusion. With the exception of Professor Chaos, who uses a special anime-worthy move in the intro, we constantly see them wearing costumes patched up with scraps of everyday items, but their powers are nonetheless shown below the form of brightly colored explosions and they all boast superhuman strength and speed. You have these kids who shoot lasers and teleport, before taking a break from the battle to let a car cross the street. Adults are also involved, so you wonder what the hell is going on. But this is South Park, so you shouldn't try to be overly realistic, as you risk asking yourself too many embarrassing questions.
Even if it sounds absurd, this super-heroic and childish culture is ultimately rather touching. Jimmy, who walks on crutches, has a speed power, and Timmy's Professor X powers make him so strong that you aren't allowed to use him in combat. It's a really great way to bring a bit of positivism alongside racist and sexual jokes, and most of the time it's brilliantly hilarious. There are, however, a few times when jokes about racist stereotypes don't work as well as expected, at least not enough on such a sensitive topic.
As for the shocking scenes, nothing in The Fracture of Destiny succeeded in repelling me as much as the Nazi fetus zombies of the Stick of Truth. That said, this sequel still has its "oh, how far have they gone?" Moments sticking to South Park's reputation. There is for example this scene where students of 4th arrive in a strip club (already doubtful for non-sexual reasons, strangely), where they meet a priest self-flagellating with the help of a rosary made from geisha ball, as well as cops even more racist than racist.
The pace of the valves only slows down as you go from one location to another, outside of the main story and side objectives. There is admittedly a fast travel system thanks to the Fastpass (actually, it's Jimmy), but they are often too far from where you need to be for them to be really useful, and lead to you being made to walk more. that's right. It's nice to stroll around this little mountain town though, especially to enjoy the atmospheric dialogues and jokes hidden here and there, but I couldn't help but notice some brutal FPS drops, as soon as the 'we pass in front of an animated background like the gentlemen's club and its flashy neon lights.
My biggest complaint turns out to be the total lack of indication during navigation. Of course, this keeps the screen clean, and keeps the feeling of being really in the show, but it also comes at a cost: I constantly had to open the map to find out where I needed to go, and which almost identical houses contained my lenses. With the left trigger, a quick map may appear, but it's too small to be of much use. Let's say that it would have been easier to make arrows pointing towards the objectives appear with this button. Same goes for the on-screen text which is a bit too small to read comfortably from his couch - I had to lean forward and squint in front of my 139cm screen to read the Coonstagrams (Instagram, named after the Coon for some reason), messages popping up on screen after interacting with certain characters.
Obviously, since we're in an RPG, the main thing you're going to do is fight. The battle patterns are based on easily understandable principles - Even on max difficulty, I was able to play for 10 hours easily before hitting a boss once. However, unlike the Stick of Truth which became easier during the progression, The Fracture of Destiny is much more interesting in the second half of the scenario, where the fights are more ambitious, and give ground to grind: attacks telegraphed, inaccessible areas, backup calls and real-time timers that require you to be fast or get hit. There are also special fights, where you are forced to constantly move or move enemies in specific places, or others where the goal is to focus on a particular enemy, and many other conditions preventing boredom. All of this is in addition to the nuances of the base system: positioning is important and everyone's abilities differ in range, direction, impact and other special effects. There is real depth.
In the end, you also have to count on a dozen playable characters. Each of them has three unique abilities and a special power (which uses a charge shared by the entire team), which gives you a wide variety of options for combat. Token is an excellent tank who can swap places with a struggling ally, and become the shield of a blow to come, while Kyle is a good healer, who can also protect his friends from a distance. Kenny, of course, is a great fuse.
There are some cool moments: the fact that each member of the group has their lines of dialogue associated with the others. This is something that is rare outside of Bioware games. And you can count on a lot of unique animations too, like when Token fills his Tupperware helmet with his own vomit as soon as he's disgusted (aka poisoned).
In the menus, The Fractured But Whole takes an interesting approach to character development. You start off with a superhero archetype, but later on you can freely mix talents and make sure you capture all the abilities of the other classes. Instead of a linear system, you can also rely on artifacts to increase your power and stats. This creates some interesting scenarios, including allowing me to hold down lower level items for a long time to get big bonus damage, or increased charge rate of the special ability. More importantly, it allows the new kid (your custom hero) to be a true Swiss Army knife, who can adapt to your needs to support the other three party members. I felt closer to him as his powers were reluctantly unlocked by Cartman, and more so as I was able to customize him with different pieces of armor. You can even change your sex, thanks to Mr. Mackey's terribly embarrassing consultations.
Keeping your hero alive during combat is a priority, as he has a unique ability that allows him to slow down time: gas, allowing you to steal a turn from your enemies. It adds a special flavor, close to real time: you can't just sit around and watch the enemy turn, or you might miss some major opportunities to turn the tide. There are, however, a few elements that can be repetitive. There are only three timid mini-games, which come back regularly, no matter what ability involved: one asks you to quickly press a button, another makes you press once, and a third makes you repeat a sequence displayed on the screen. Then you hit another button to block or recover some health after taking a hit. It's something that basically serves to keep the controller in hand, but it doesn't go any further.
The same goes for the Ultimate Ability animations, which are great and hilarious the first few times, but lengthy and inevitable after a while. Seeing Cartman fantasizing about the Coon posters and taking part in Inside the Actors Studio (an American TV show) before hitting his opponents, or Kyle igniting his frenzy on his attackers takes a good ten seconds each time. It might seem short, but it's boring as soon as you start fighting against powerful enemies. We will therefore seek a little variety by regularly modifying our team, and the powers that go with it.
Note the presence of a craft system, but which turns out to be most of the time quite useless. When you collect items - and you collect a lot of them - you always have enough basic ingredients to create the item you need. During part of the campaign, I regularly ran to the maximum of possible materials (999). The exception turns out to be a key ingredient, like the tortillas for the skincare burritos, which I suddenly bought from vendors like Morgan Freeman. But in that case, why not just offer some care items for sale?
Between fights, you are free to explore the streets of South Park, and therefore discover new gags, or even fight against gangs, complete simple puzzles - because there is always a way to get the right one. tool or the right character (some objects visibly coming out or coming in from / into your hindquarters). Admittedly, there is some annoying repetitiveness, although part of it was my fault - by unlocking an ability I remembered all the places I could use it, setting off in search of others. puzzles thereafter. Some of them have taken me to interesting and unexpected places. But they're a lot more compelling when tied to the main story missions, where you then use a variety of abilities in bespoke sequences - so you have to think it through, which is more rewarding.
As for the technical aspect, I had to deal with some freezing problems after pausing the game, forcing me to restart it completely, without losing too many backups.
Screenshots
Screenshots will help you evaluate the graphics and gameplay of South Park: The Fractured But Whole.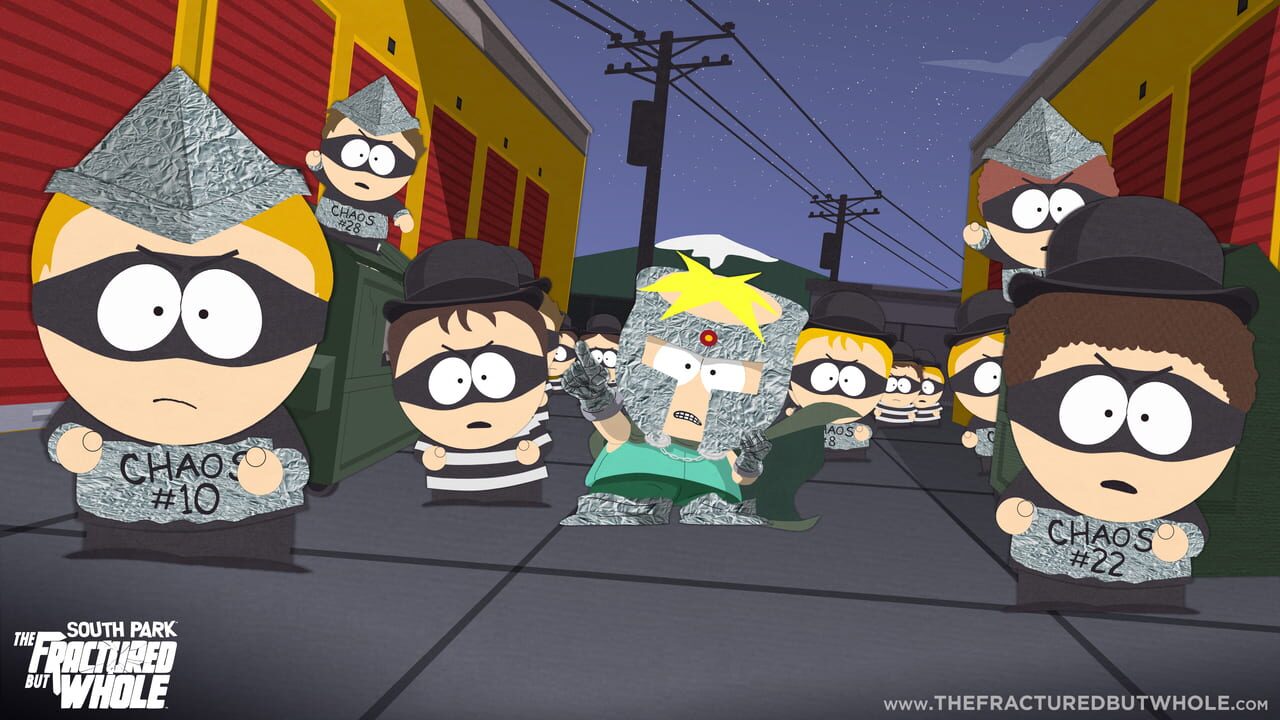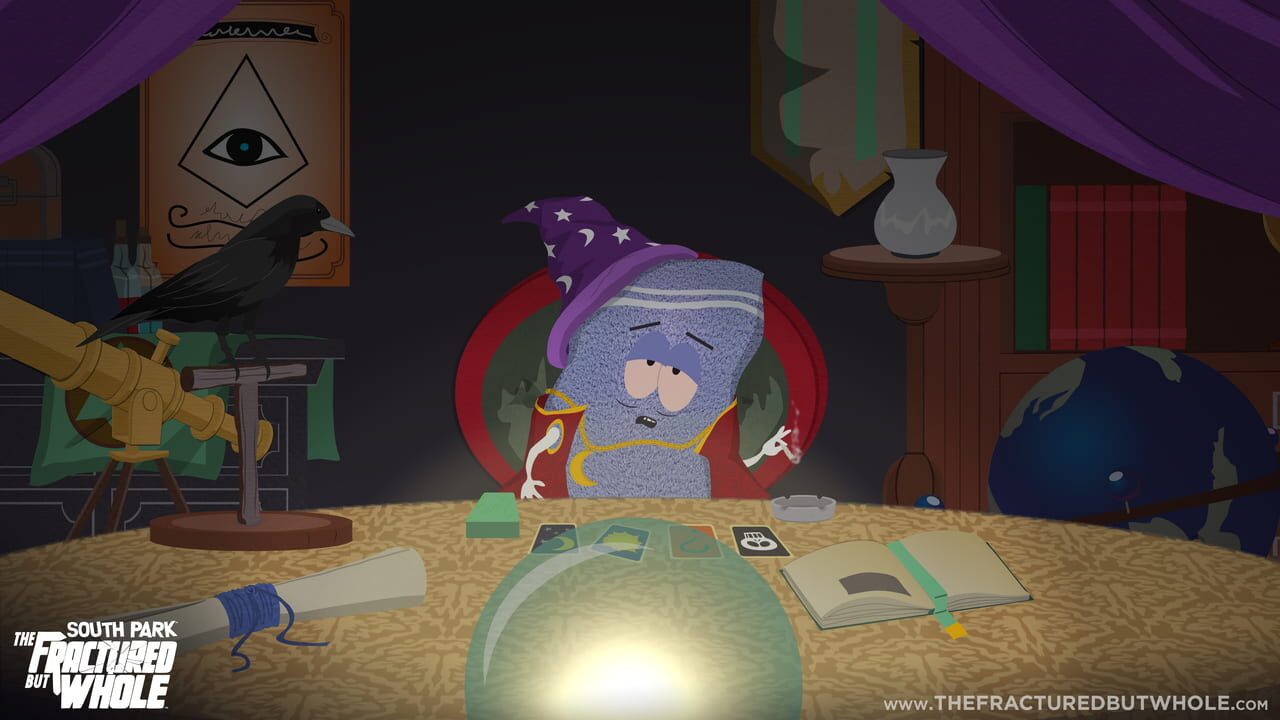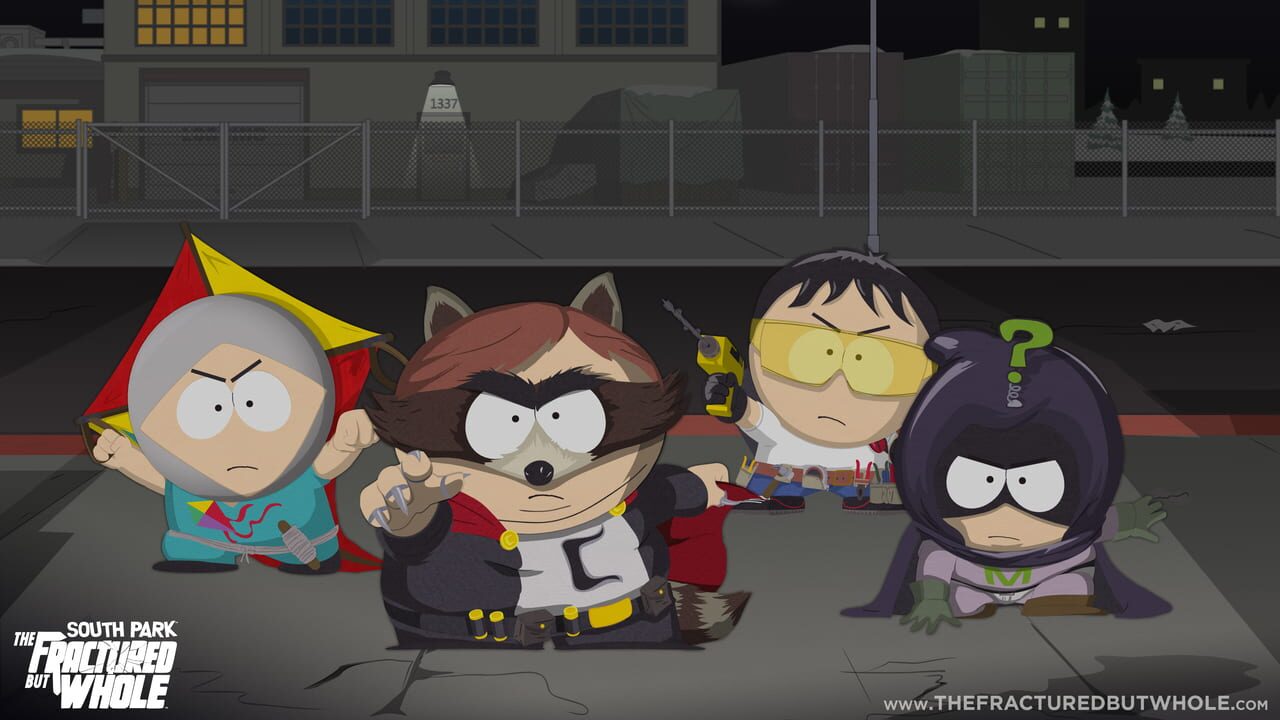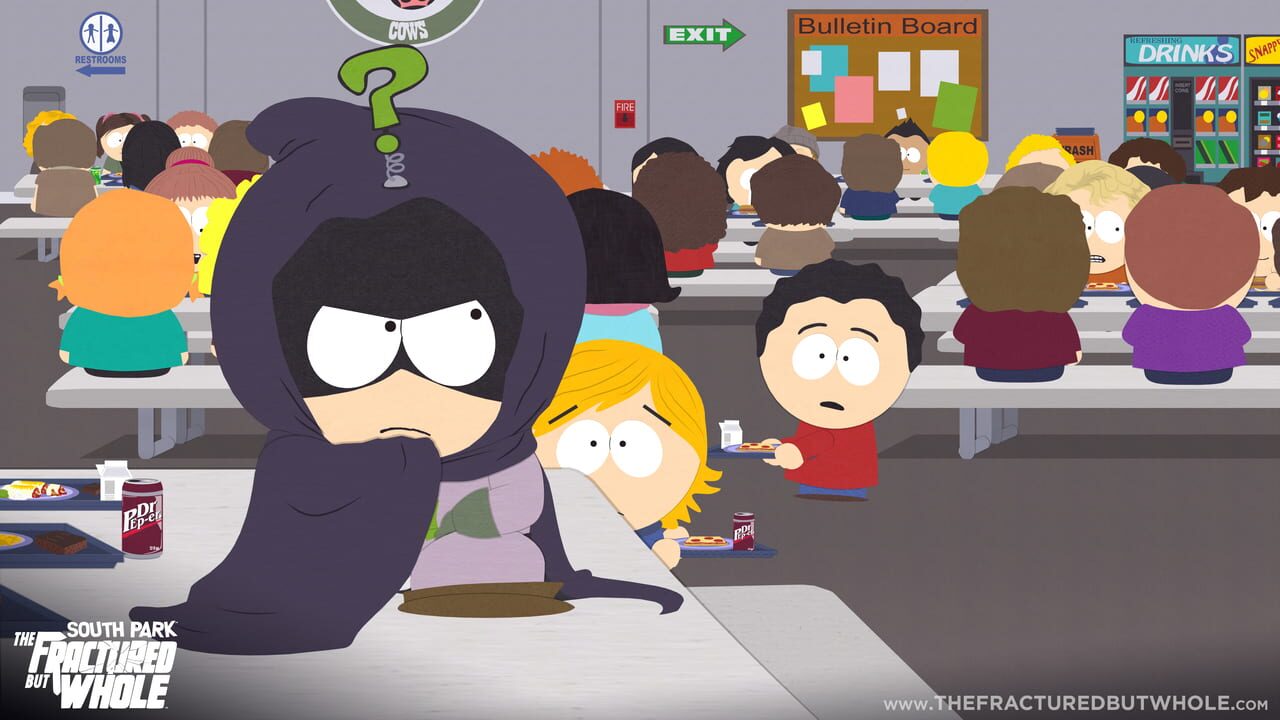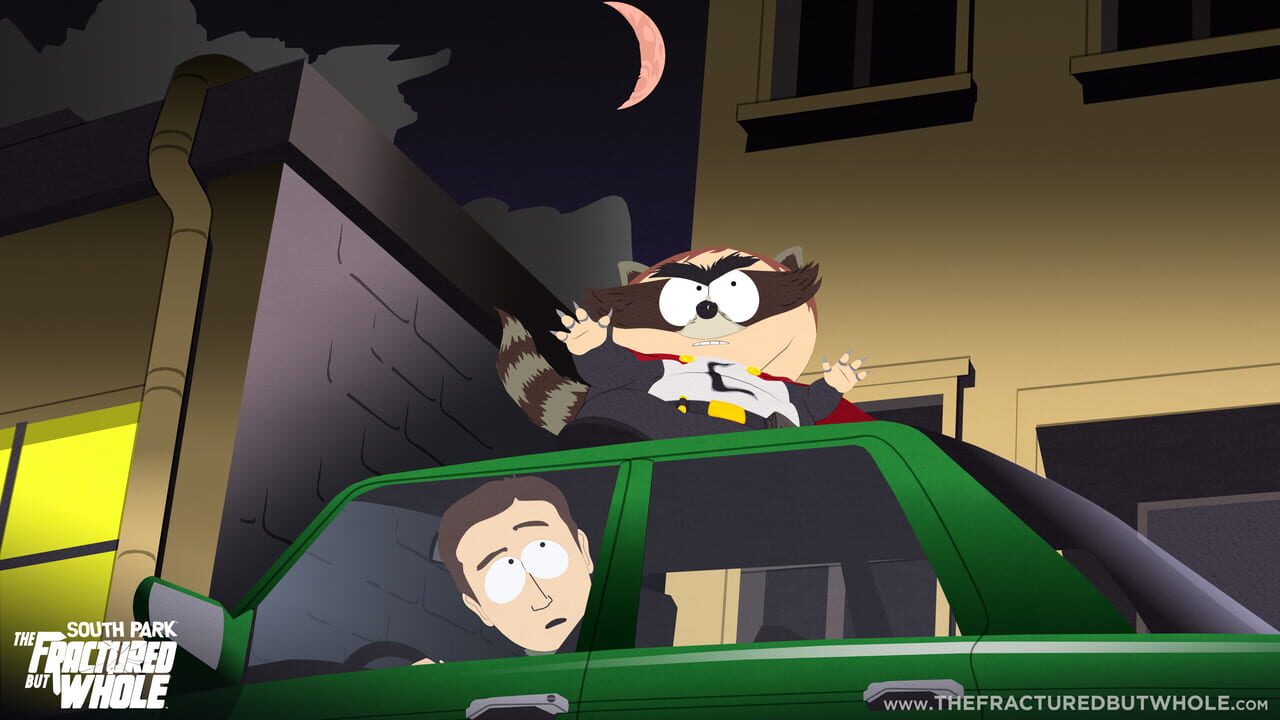 Videos
If screenshots are not enough, you can enjoy creative videos from Ubisoft Entertainment
Streams
But that's not all! We also carefully prepared the best strips from South Park: The Fractured But Whole.
You may also like
If you like South Park: The Fractured But Whole, but you're tired of it and want something new, you can try other games.